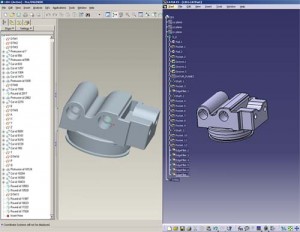 TTI is a premiere CAD technology company that provides software and service solutions for Mechanical Computer Aided Design (MCAD) interoperability demands. TTI provides highly valuable services and products to the manufacturing, automotive, aerospace, and defense industry, allowing OEM and supplier companies to more effectively communicate complex, highly precise computer-aided design (CAD) models to streamline the design and manufacturing process and reduce costs.
All translations are performed in the United States.
TTI provides a one-stop translation and re-mastering resource for CAD model translations. Customers have a complete array of translation options from IGES/STEP files to Feature Based Mapped Models. TTI's powerful Acc-u-Trans software is a feature-based data exchange software that provides the backbone of its two-pronged business model, which includes Acc-u-Trans, its licensed software solution, and the utilization of that software to provide customer translations on a service basis. This approach is serving the company well. TTI has a strong customer base and an established technology lead. In the recent past TTI has added many new customers seeking the company's interoperability solution.
TTI is a privately owned company based in Spokane, WA that was founded in 1998.