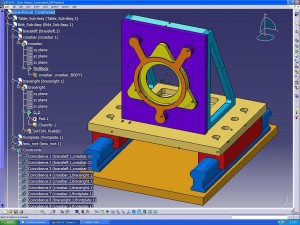 TTI provides two pieces of software that can be leased or purchased for customer use. Acc-u-Trans installations come standard with Mirror Model Comparator to verify the accuracy of models; MMC can also be installed separately to verify the accuracy of any CAD model translation.
Acc-u-Trans has been hailed as "innovative next-generation translating software" by CAD industry critics. If you wish to have the ability to perform fast, accurate, and fully modifiable CAD data translations efficiently and effectively, then Acc-u-Trans CSI is a good solution. The software provides the user with the ease and flexibility to tailor the translations using specific requirements within the company. Furthermore, Acc-u-Trans' proprietary geometry verification system, the Mirror Model Comparator, ensures high-level accuracy by verifying that the target CAD model matches the source CAD model to any stated tolerance.
TTI provides the in-house installation of Acc-u-Trans with training and support for the software. The latest release of TTI's CAD interoperability engine, Acc-u-Trans 8.0, and provides support for translations between all supported CAD systems.
The Mirror Model Comparator (MMC) is a proprietary patent pending geometry verification system that ensures a high-level of accuracy in the feature-based translation of a CAD file from one commercial CAD/CAM system to another. Although the MMC is a module of the Acc-u-Trans translation engine, it has been designed with the ability to compare models that were not translated using Acc-u-Trans and now has even been configured to stand-alone.
The MMC allows the users to perform geometric verification of the models translated between CAD systems. The analysis done by the MMC will find and display any discrepancies in the translated model as compared to the original model in the source CAD system. Additionally, you can reverse analyze to find any additional geometry that is in target model but not in the source model.
The results of the analysis are displayed in the target CAD system, making it extremely easy for the user to see first hand any discrepancies between the two CAD models. The MMC can perform the analysis on feature-based and feature-less (B-Rep) models.
Acc-u-Trans and MMC are both available for customer site installations. TTI provides the in-house installation of Acc-u-Trans and MMC, with training and support for the software available. For more information, please contact us or view sample translation files. TTI also offers in-house, US based translation services using the Acc-u-Trans software.