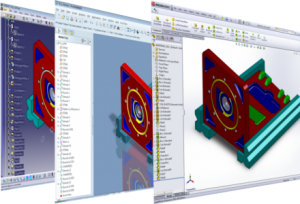 TTI's CAD Translation service provides the convenience of a quality feature based CAD translation or neutral (B-rep) CAD file translations on a fee-per-file or fee-per-project basis. This allows companies without multiple CAD systems required for a feature based translation, or a direct translator with healing capabilities access to the quality and value of Acc-u-Trans translations without the upfront expense of purchasing, learning and maintaining new software.
United States based CAD translations
Your CAD data is safe at TTI. We do not sell engineering time for design work, but rather concentrate only on CAD data translation and exchanges. We are a totally US owned and operated business staffed only with US citizens. TTI's expertise and quality software solutions ensure that your CAD data is not only translated, but the results provided are useable.
We can offer both translations on an as needed basis or utilize blanket PO's minimizing the amount of times you need to request a Purchase Order. Ask about our bulk CAD data translation pricing as well
The CAD translation process
Utilizing TTI's service is simple. First register for an upload/ download account and simply send your file(s) to TTI's secure server. After the upload is analyzed you will be contacted using the provided information contained in your registration with a quote and any analysis information pertinent to the CAD model translation output. Once the quote is approved the source model will be translated by TTI into the specified target CAD system and sent back to you via the secure area of the web site. Upon retrieval, a fully modifiable feature-based or solid neutral (B-rep) native CAD file in the target CAD system will be ready for use. The feature based translated file will look and function just like it was designed in the target CAD system. It will be completely modifiable and include all of the features and functionality designed into the source file, right down to the fully functional history tree. The neutral file will be to the agreed level of quality including it being a solid.
Supported Translations
Feature based translations (history tree remains intact and available for feature modifications) are available between CATIA (both v4 and v5), Creo, NX, NX I-deas, Solid Edge, and SolidWorks (for all versions listed below)
Neutral or B-rep translations (history tree is collapsed to a single feature – the model) include: native inputs and outputs for CATIA v4 and v5; Pro/Engineer; Creo; NX; NX I-deas; SolidWorks; Inventor; Mechanical Desktop; AutoCAD; CADDS; Euclid; Solid Edge;
Standard extensions supported: .stp (STEP); .igs (IGES); .x_t (Parasolid); .sat (Acis); .stl; .set; .jt
Translated or Re-mastered Model Analysis
Utilizing the Mirror Model Comparator (MMC), TTI has the unique capability of analyzing translated or re-mastered models for equivalency to the original model. This analysis is far more accurate than just relying on Mass Properties. The customer can request an analysis tolerance and resolution. The MMC will find any discrepancies greater than the requested tolerance and will display these as a series of points on the translated or re-mastered model. These points can be measured to any surface or edge. The points can be simply deleted from the model tree once it is fixed or no longer required.